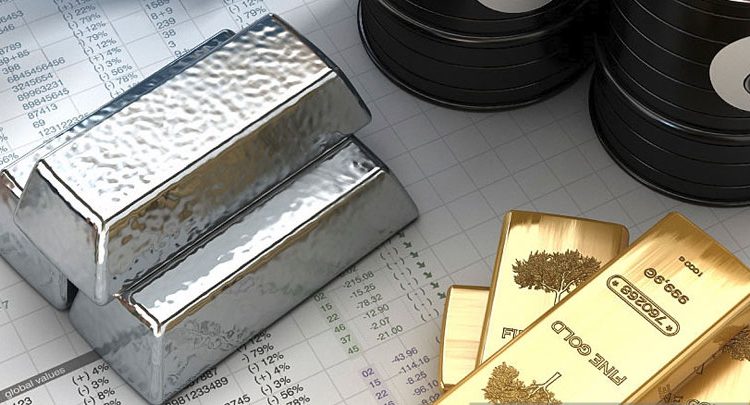 Commodity Trading View Bullion Metal & Energy
Commodity Trading View Bullion Metal & Energy
Gold prices started the week higher in midmorning trade Monday while investors returned to their desks to digest the trade tension over the weekend at the G7 summit and looked ahead to the summit between the U.S. and North Korea as well as key policy decisions from the Federal Reserve and European Central Bank. In a press conference on Monday, U.S. Secretary of State Mike Pompeo commented that Trump believes Kim has an unprecedented opportunity and is hopeful that the summit will set the groundwork for future productive talks. Pompeo was clear that the U.S. objective with regard to North Korea has not changed and that sanctions would remain until the country denuclearizes. Gold prices continued to hover around the psychologically important $1,300 level ahead of a widely expected Federal Reserve interest rate increase due Wednesday.gold futures for August delivery on the Comex division of the New York Mercantile Exchange inched up $1.10 cents, or 0.08%, to $1,303.80 a troy ounce.
Base metal prices were mixed on Monday as positive sentiment over strong import data in China, the world's biggest metals consumer, was tempered by renewed fears of a global trade war amid a lack of consensus at the G7 summit in Canada. Copper prices slid on Monday as fears about output disruption at the Escondida mine in Chile receded, but worries about supplies from Vedanta's copper smelter in India and a softer dollar provided some support. Benchmark copper on the London Metal Exchange ended down 0.8 percent at $7,255 a tonne. Last week, the metal used widely in the power and construction industries touched $7,348, its highest since January 2014.Aluminium and zinc ended little changed at $2,301 and $3,201 respectively,nickel lost 0.8 percent to $15,290. The lead was untraded at the close but bid 0.3 percent higher at $2,474 a tonne.
WTI crude oil prices settled higher Monday as Iraq's oil minister warned producers against easing limits on production curbs offsetting reports of an uptick in Russian and Saudi output. On the New York Mercantile Exchange crude futures for July delivery rose 36 cents to settle at $66.10 a barrel, while on London's Intercontinental Exchange, Brent added 2 cents to trade at $76.48 barrel. Iraq's oil minister, Jabar al-Luaibi, warned producers Monday against pumping more oil, claiming oil prices still needed support. The number of oil rigs operating in the US increased by 1 to 862, its highest level since March 13, 2015, according to data from energy services firm Baker Hughes. Natural gas futures started the week in positive territory on Monday, as updated forecasting models pointed to above-average temperatures covering most of the country over the next two weeks.
शुक्रवार को सोने की कीमतों में काफी बदलाव नहीं आया क्योंकि अमेरिकी फेडरल रिजर्व नीति बैठक और संयुक्त राज्य अमेरिका और उत्तरी कोरिया के बीच एक शिखर सम्मेलन जैसे अगले सप्ताह महत्वपूर्ण कार्यक्रमों से पहले निवेशक सतर्क रहे। स्पॉट सोना 1,296.60 डॉलर प्रति औंस पर स्थिर था, इस सप्ताह अब तक यह 0.3 प्रतिशत बढ़ गया है। अगस्त डिलीवरी के लिए अमेरिकी सोने के वायदा 0.2 प्रतिशत गिरकर 1,301.10 डॉलर प्रति औंस हो गए। डॉलर सूचकांक, जो छह प्रमुख मुद्राओं की टोकरी के खिलाफ ग्रीनबैक को मापता है, 93.439 पर थोड़ा बदल गया था। पिछले सत्र में यह तीन सप्ताह के निचले स्तर पर गिर गया। अमेरिकी डॉलर का प्रभुत्व जल्द ही खत्म हो जाने का अनुमान है, अन्य केंद्रीय बैंकों की नीतियों की अपेक्षाओं में अचानक बदलाव होने के कारण मुद्रा रणनीतिकारों के एक रॉयटर्स सर्वेक्षण ने दिखाया।
लंदन तांबे ने छः दिन की रैली के बाद शुक्रवार को पीछे हटना शुरू कर दिया, जिससे पिछले सत्र में मेटल को मजबूत सत्र में 4-1 / 2 साल में मजबूती मिली। लेकिन मजबूत चीनी आयात दिखाने वाले आंकड़ों में नुकसान में कमी आई। पिछले हफ्ते चिली में बीएचपी संचालित एस्कॉन्डाडा तांबा खदान में श्रमिक संघ ने एक अनुबंध प्रस्ताव के साथ श्रम वार्ता काट दिया था जिसमें संभावित कार्यकर्ताओं के डर को लेकर 34,000 डॉलर प्रति कर्मचारी का बोनस शामिल था। चीन द्वारा दुनिया के शीर्ष उपभोक्ता मई में 17 महीने में सबसे ज्यादा चढ़ाई हुई। लंदन मेटल एक्सचेंज पर तीन महीने का तांबे 1 फीसदी नीचे 7,25 9 डॉलर प्रति टन पर बंद हुआ। सत्र में 7,211 डॉलर का सत्र कम हुआ। जनवरी 2014 से अनुबंध $ 7,348its सबसे ज्यादा छू गया, और इस सप्ताह अब तक 5 प्रतिशत बढ़ गया है, जो फरवरी के मध्य से सबसे ज्यादा है। सात समृद्ध राष्ट्रों के समूह के नेता शुक्रवार को एक संयुक्त राष्ट्र के राष्ट्रपति डोनाल्ड ट्रम्प के साथ संघर्ष करने के लिए तैयार हैं, जब वे इस्पात और एल्यूमीनियम पर प्रतिबंधों को उठाने के लिए दबाव डालते हैं तो वे डर से व्यापार युद्ध की ओर अग्रसर हो सकते हैं। एल्यूमीनियम 0.4 प्रतिशत गिरकर 2,300 डॉलर प्रति टन पर बंद हुआ, जस्ता 0.6 प्रतिशत बढ़कर 3,202 डॉलर हो गया, निकल 0.6 फीसदी गिरकर 15,420 डॉलर हो गया।
डब्ल्यूटीआई कच्चे तेल की कीमत शुक्रवार को कम हो गई क्योंकि अमेरिकी तेल रिग की संख्या में अमेरिकी शेयरों में तेजी आई है। अमेरिका में चल रहे तेल रिग की संख्या 1 से 862 तक बढ़ी है, इसका उच्चतम स्तर ऊर्जा सेवा फर्म बेकर ह्यूजेस के आंकड़ों के मुताबिक, 13 मार्च, 2015 से, यूएस आउटपुट में विस्तार के संकेतों को इंगित करते हुए। ओपेक ने ईरान द्वारा तेल उत्पादक समूह की इस महीने की बैठक में तेहरान के खिलाफ अमेरिकी प्रतिबंधों पर चर्चा करने के अनुरोध को खारिज कर दिया है। , इस मामले से परिचित एक स्रोत ने रायटर को बताया। न्यू यॉर्क मर्केंटाइल एक्सचेंज में जुलाई डिलीवरी के लिए कच्चे वायदा 21 सेंट गिरकर 65.74 डॉलर प्रति बैरल पर आ गया, जबकि लंदन के इंटरकांटिनेंटल एक्सचेंज पर ब्रेंट 1.18% गिरकर 76.41 डॉलर प्रति बैरल पर कारोबार कर गया। प्राकृतिक गैस ईआईए के प्राकृतिक गैस सूची के अनुमान के बाद गुरुवार को whipsawing के बाद शुक्रवार को कीमतें कम हो गईं। अपेक्षित कनाडाई आर्थिक आंकड़ों की तुलना में बेहतर कीमतों पर वजन। मौसम मिश्रित होने की उम्मीद है लेकिन टेक्सास में सामान्य मौसम की तुलना में गर्म होने से कीमतें लगातार बढ़ सकती हैं।